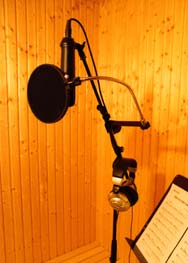 (11/02/2009)


The new swedish jazz album "Djupa Andetag" by Jean-Simon Maurin Trio & Elin Wrede is now released and the reviews so far has been great. The album was recorded in Karlshamn by Anders Hallbäck and mixed/mastered at Beach House Music.





(11/02/2009)


The band Royal Republic has recently signed a major publishing deal with Warner/Chappell. The so far untitled album recorded at Beach House Music will be out later this spring, watch out!





(05/12/2008)


This computer animated Swedish feature film will open March 27:th 2009 on cinemas in Sweden. The score is orchestrated and conducted by Nils-Petter.





(02/11/2008)


Tobias Broström's portray CD "Arena" has now been released on the record label C-Y Contemporary. Malmö Percussion Edition are playing. Order online at www.beachhousemusic.com/crew/tobias.php





(22/09/2008)


Swedish Music Publishing Association has nominated Tobias Broström's orchestral piece Transit Underground as one of four pieces in the art music category (large ensemble/opera).





(19/09/2008)


The Swedish animated feature film "Gnomes and trolls" is now completed and ready for delivery. There is no official opening date for Sweden yet. The music is composed by Anders Bagge and Oscar Merner with orchestrations and additional music by Nils-Petter. See www.gnomesandtrolls.com





(03/09/2008)


A portrait CD of music composed for percussion ensemble/solo will be released on the recordlabel C-Y in Sept/Oct. 2008. Malmö Percussion Edition are performing. The CD includes the pieces Arena - Solo Version, Phantasmagoria, 6&8, Twilight, Nordic Peace, Bridging the World and Faces.





(02/09/2008)


Gehrmans Music Publishing has started a cooperation with Tobias Broström. The first five works to be published are Crimson Skies (2006), Crimson Seas (2007), Buxtehude Remixed (2007), Transit Underground (2007) and Kaleidoscope (2008). www.gehrmans.se





(19/07/2008)


Jonas piece AN ARKEOLOGY, written for Per Tengstrand, is re-orchestrated in a chamber version for a concert at the Giresta Piano Festival on the 31st of August.





(03/06/2008)


On the 1:st of June Royal Republic Became Swedish winners of the Emergenza Music Festival at the finals i Stockholm. To learn more visit www.emergenza.se or www.royalrepublicband.com