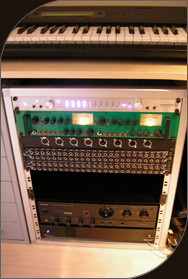 (2006-11-09)


The piece is called Linnaeus Rex and is composed by Ola Salo, lyrics by Ola Salo and Carl Linneus, and orchestrations by Jonas and Ola. The piece will be performed by a o string orchestra Musica Vitae, pianist Per Tengstrand, conductor: Jonas Nydesjö.





(2006-11-04)


Following up last years outdoor summer musical in Strömbergshyttan; "Timmy Globetrotter", Nils-Petter and Christoffer Nobin are teaming up with Anders Hallbäck to produce songs for next years musical extravaganza in Teaterborgen inspired by the greatest pirate ever; "Kapten Svartskägg" ("Captain Blackbeard").





(2006-11-04)


Webmaster Måns Hjertstrand is currently updating www.beachhousemusic.com to better suit our purposes after the move to our new studio. The first new function is the guestbook, please feel free to sign it!





(2006-11-01)


Currently, Tobias and Nils-Petter are collaborating on the score for the TV-film "Stå ut", a contemporary story about teenagers with ambitions to rap their way through life. The film is written and directed by Malin Myrén.





(2006-10-30)


Malmö academy of music has commissioned an arrangement of swedish christmas songs, arranged for symphony orchestra and choir, and Malmö academy orchestra and choir has commissioned an arrangement for folk music trio, vocal soloist, choir and orchestra.





(2006-09-07)


CajsaStina Åkerström´s album "Kärleken finns överallt", featuring string arrangements by Nils-Petter, entered the chart of the best selling albums in Sweden as number five last week!





(2006-08-21)


The next production of PipeDream Production is finally here! The musical is based on Dickens "A Christmas Carol" with music by Michel Legrand and book/lyrics by Sheldon Harnick. Directed by Elisabet Sevholt, musical supervisor: Jonas Nydesjö, songs pre-recorded by Anders Hallbäck. Performed at Lund City Theatre in december.





(2006-08-13)


The song "Kärleken finns överallt" reached number six on the famous Svensktoppen chart this week (a Swedish chart dedicated to Swedish music). The single features a string arrangement by Nils-Petter.





(2006-08-10)


The band FOUR REAL just released its´official webpage. Please log on to www.fourreal.se and see photos, read bios and listen to mp3s!





(2006-08-10)


The band CALAISA from Malmö released their debut CD the other week. The CD features a string arrangement by Nils-Petter.





(2006-08-03)


The Composer in Residence project starts this concert season (2006/07) and will generate two new orchestral work per year. Robin Ticciati who recently became the principal conducter of the orchestra is scheduled to premiere all the new works. The first piece to premiere in March 2007 will be "Crimson Seas" written for Swedish Alto Anna Larsson.





(2006-07-10)


The poporiented album "Kärleken finns överallt" will be released in August this year and the first single of the same name has already been released to the radio. Nils-Petter has arranged and conducted the strings for the album.





(2006-05-30)


This fall Jonas will once again conduct the orchestra from Lund, this time music from the classical repertoire only. Time and date is not set.





(2006-05-17)


We are no longer situated in our studio at Rolfsgatan in Malmö! We are moving to a new studio, designed and built for us in the very same house. We are very excited about this and it gives us the possibility to welcome songwriter/producer/pianoman/singer Henrik Hansson to join the Bech House team! More news to come!





(2006-04-04)


It is now official that the Stockholm production of the musical "Cabaret", featuring Peter Jöback with orchestrations by Nils-Petter, will run for another season starting in September 2006.





(2006-04-04)


Due to problems with aquiring the proper rights for "Tintin" the musical "Tintin och Sctrombergshuttendiamanten" has now become "Timmy Globetrotter och Schtrombergshuttendiamanten". The show opens May 27:th at Teaterborgen, Lessebo, Småland.





(2006-04-03)


Tobias Broström will write a new piece for Swedish Alto Anna Larsson and Gävle Symphony Orchestra. Premiere in 2006/2007 concert season.





(2006-04-03)


Between April 12-27 Nils-Petter will be in Dayton, Ohio, USA to work as musical director on a production of David Spangler and Rick Gore´s epic musical "Nefertiti". There will be three performances between 24-26:th of April.





(2006-04-01)


Tobias has been portrayed as the composer of the month (April) by the Swedish Performing Rights Society STIM. Read more at www.stim.se





(2006-03-09)


This june, string players from Nishinomiya Symphony Orchestra and swedish guitarist Erik Bratt will perform swedish music for guitar and strings, written by Jonas, Erik Bratt and Mattias Lysell. Dag Wiréns Serenade for Strings will also be performed. Conductor: Jonas Nydesjö.