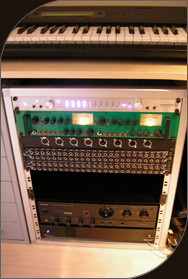 (2008-04-09)


It is now official that Anders Hallbäck's band Royal Republic is one of the three finalists in "Metro Music Challenge". The first prize is 3.5 million SEK worth of media exposure so don't forget to vote!





(2007-12-05)


Tobias Broström will write a new Trumpet Concerto for the world known Trumpet solosit Håkan Hardenberg. To be performed in 2009 as a part of Tobias engagemnet as Composer in Residence with Gävle Symphony Orchestra. Principal conductor Robin Ticciati is scheduled to do the world premiere.





(2007-11-25)


Tobias Broström has published two pieces with the danish publisher Edition Svitzer. The titles are "The Flight of the 2nd Bumblebee" for two marimbas and "6&8" for solo Snare Drum, Bass Drum and Hi-hat. To listen or to watch/buy the score go to www.editionsvitzer.com.





(2007-10-30)


In december, publisher Gehrmans releases four new arrangements by Nils-Petter for lead singer, choir and piano with songs from Swedish singer Peter Jöback's latest album "Människor som du och jag": "Stockholm i natt", "Inget vi får vill vi ha kvar", "Jag sjöng varje sång för dig" and "Juni, juli, augusti".





(2007-10-19)


Malleus Incus, Duo Friberg and Malmö academy of music's Percussion Ensemble are playing variuos percussion hits. The CD is recorded by Tobias Broström and the tracklist also contains two works for by him. The title is simply "Slagverk" ("Percussion").





(2007-09-06)


Nils-Petter has arranged a concert of Astrid Lindgren music to be performed by professional string orchestra Camerata Nordica in school during november. Nils-Petter will join the tour as a pianist.





(2007-08-28)


The percussion ensemble at the Royal Conservatory of Music in Copenhagen will do a Tobias Broström portrait concert the 2:nd of October, 2007. Phantasmagoria, Scene for Vibraphone, Nordic Peace, Flight of the 2nd Bumblebee, Twilight and Faces will be played among other pieces. More info to come.





(2007-07-09)


Tobias Broström will co-produce and record a new CD for NAXOS record label. Malmö Academy of Music's percussion ensemble are performing. The CD will also include a couple of tracks by Broström. Out in autumn.





(2007-04-23)


PipeDream produces musical concerts in september at Lund City Theatre. Large orchestra, choir, Tommy Körberg, Stefan Ljungkvist, Simon Laufer, Melker Sörensen and more. Conducted by Jonas.





(2007-03-27)


Crimson Seas, composed by Tobias Broström, will be broadcasted May 18:th on Radio P2, 19:30. Alto soloist: Anna Larsson with Gävle Symphony Orchestra conducted by Robin Ticciati. Follow this link to listen online: Web Radio SR P2.





(2007-03-23)


Swedish punkrock duo SHEBANG is back with a new album called GO! GO! GO! Beach House is represented with the song "Make me stop" (Hallbäck/Ankarblom/Hummelman) on the album which were released in the 14:th of March 2007!





(2007-03-23)


Sofia is a young Swedish singer/songwriter and this is her second album. The album was mixed for BHM by ANDERS HALLBÄCK and was released on the 26:th of january 2007.





(2007-03-22)


On the 11th of April, The Ark release their latest album, featuring a string arrangement by Jonas.





(2007-03-05)


This week Nils-Petter's project FOUR REAL is the featured artist at Radio Kalmar. You can listen to four songs on the webb: www.sr.se/Kalmar/. For real!





(2007-02-05)


The first performance of Ola Salos piece is still available on the web. http://www.filmochtvgymnasiet.se/linne2007/. The piece is co-arranged, orchestrated and conducted by Jonas.





(2007-02-03)


The list of this weeks 20 best selling albums in Sweden feature the new cast recording of the musical Cabaret on place 7 and Calaisa's debutalbum on place 19. Both albums feature arrangements by Nils-Petter.





(2007-01-24)


Peter Jöback's production of "Cabaret", now running in Göteborg, just released its cast album. The show is co-orchestrated by Nils-Petter.





(2007-01-09)


Live recorded concert with Gävle Symphony Orchestra under the direction of Robin Ticciati. 1. Richard Wagner: Siegfried-idyll. 2. Tobias Broström: Arena - Percussion Concerto No 1(2004). 3. Antonín Dvorák: Symphony no 3 in Eb. Concert recorded October 29, 2005, Gävle Concert Hall. Presentation: Per Lindqvist. Listen on the web at www.sr.se/p2





(2007-01-03)


The ceremony celebrating Carl Linnaeus 300th birthday will be will be aired via the internet, www.linne2007.se or www.vaxjo.se. The ceremony contains both speeches (a o by the swedish king) and the world premiére of LINNAEUS REX by Ola Salo, conducted by Jonas Nydesjö.





(2006-12-07)


Brostrom's Arena - Percussion Concerto No 1 is being performed at Northwestern University in Chicago. The date is set to April 28. Robert G. Hasty, conductor; Sean Connors, percussion. Event Time: 7:30 PM. Northwestern University Chamber Orchestra. USA premiere. Pick-Staiger Concert Hall: 50 Arts Circle Drive, Evanston. Pick-Staiger Concert Hall.